Moros intrepidus profile
Bones discovered in 2013, described in 2019 as a new species.
Original painting on gatorboard, 2 feet x 5 feet: $900
Archival print, limited edition:
12″x30″ drymounted/plaque mounted: $250
23″x59″ drymounted/plaque mounted: $300
23″x59″ on stretched canvas: $300
This animal was just discovered in 2013 by Lindsay Zanno and was described by Lindsay and her colleagues in 2019. This animal quickly captured the imagination of several artists, including myself. It is currently thought that Moros, an early Tyrannosaur, was a precursor to the world's largest terrestrial carnivore, Tyrannosaurus. Thus the name, Moros, meaning harbinger of doom.
I had a 2 foot x 5 foot piece of gatorboard. I sketched the overall shape of the animal and quickly got to using watercolour paints to separate the animal from the background. From there, I painted using watercolours, acrylics, acrylic ink, and airbrush paints. Airbrushes are not perfect, and there were a few places where it sprayed a splatter of paint when I was painting the fog, but I felt that the splatter added to the image so I made no attempt to fix mistakes like this when they happened. I love the colour Payne's Grey and I could hardly have used more of it than I did here… lots of Payne's Grey acrylic ink. For the digital image, I simply took a photo of the painting, opened it in Lightroom and applied overall adjustments. I feel that the original physical painting looks more realistic and the digital image of it is more surrealistic.
Anyone who does 3D modelling is familiar with the phrase "subsurface scattering" which is an effect caused by light – with acrylic paint, I made a subtle hint to subsurface scattering on this animal, mainly on the face.
Watching the timelapse sequence I made of my progress on this painting, you can see that more detail was at one point or another painted, but was covered up with shadow and mist. This was my intention from the beginning, and I knew as I was painting the colour scheme on the animal that much of that would be obscured by shadow.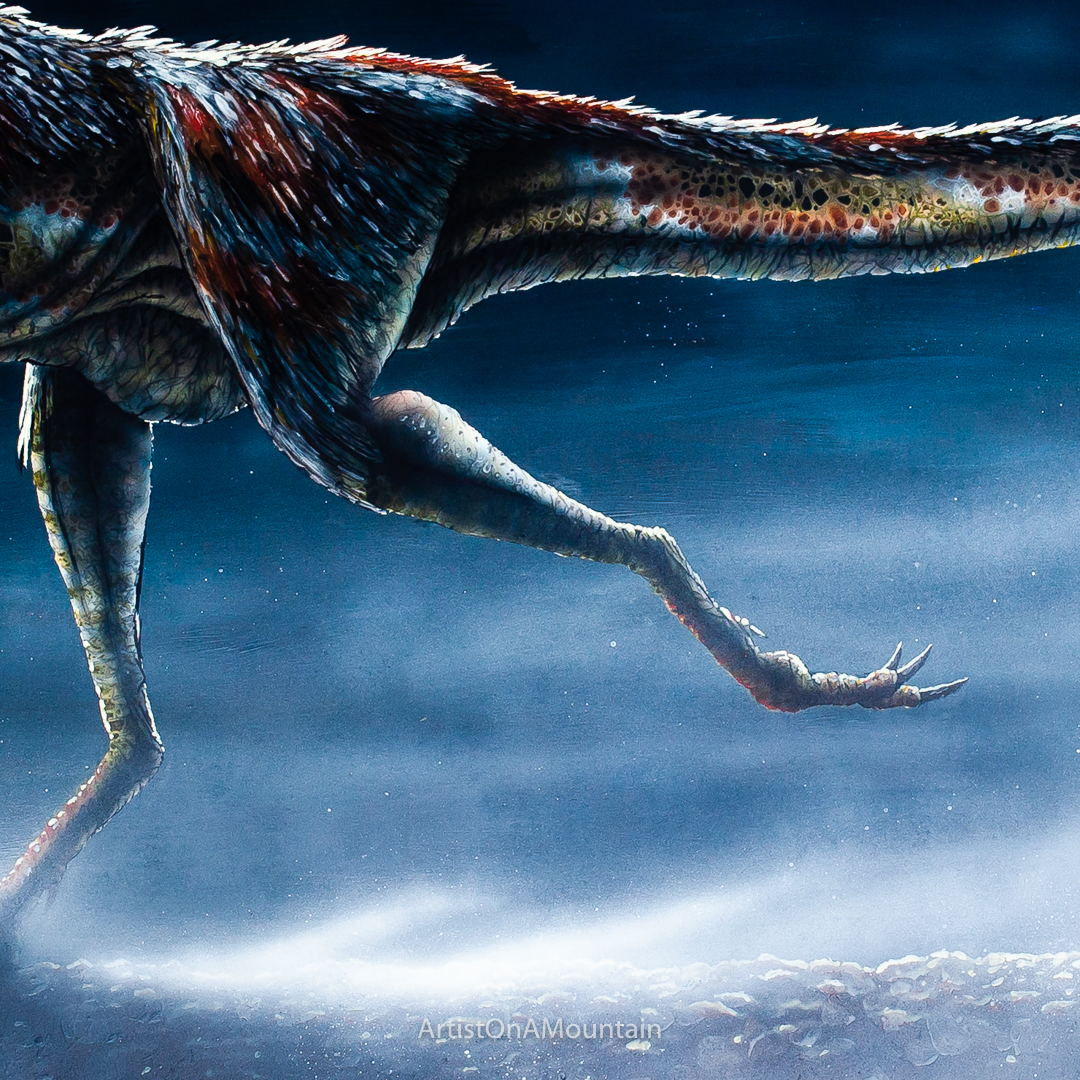 (detail from the print version)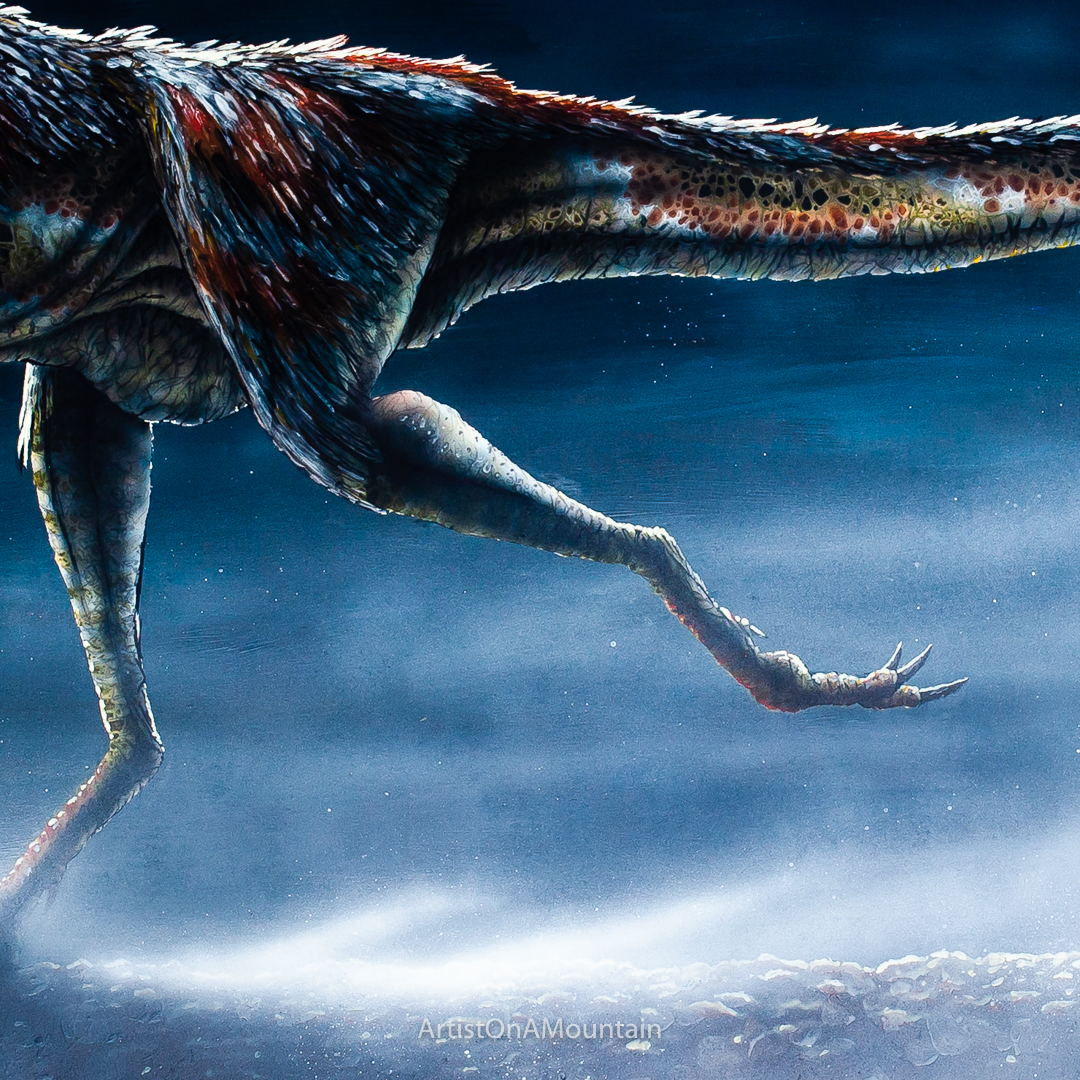 (another detail from the print version)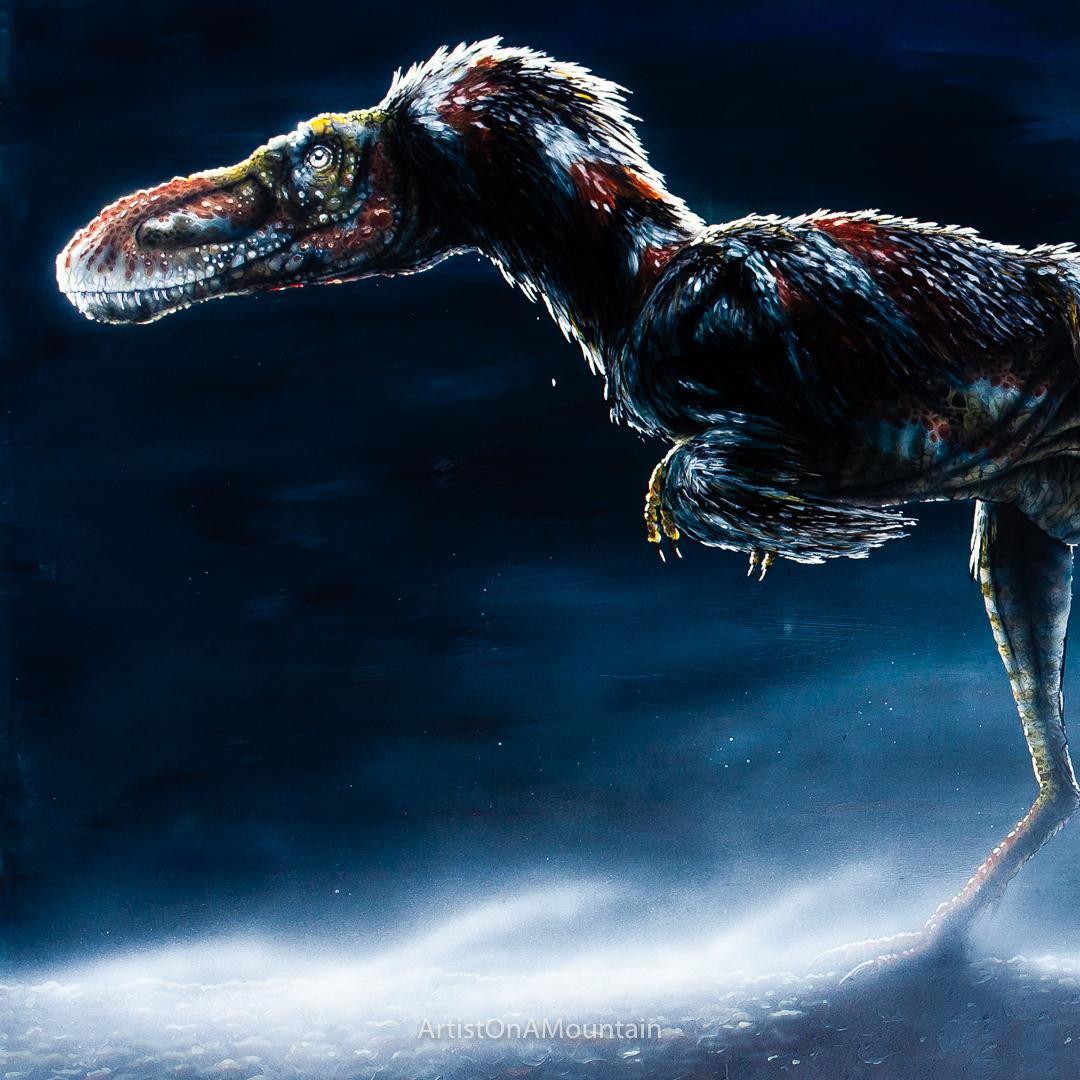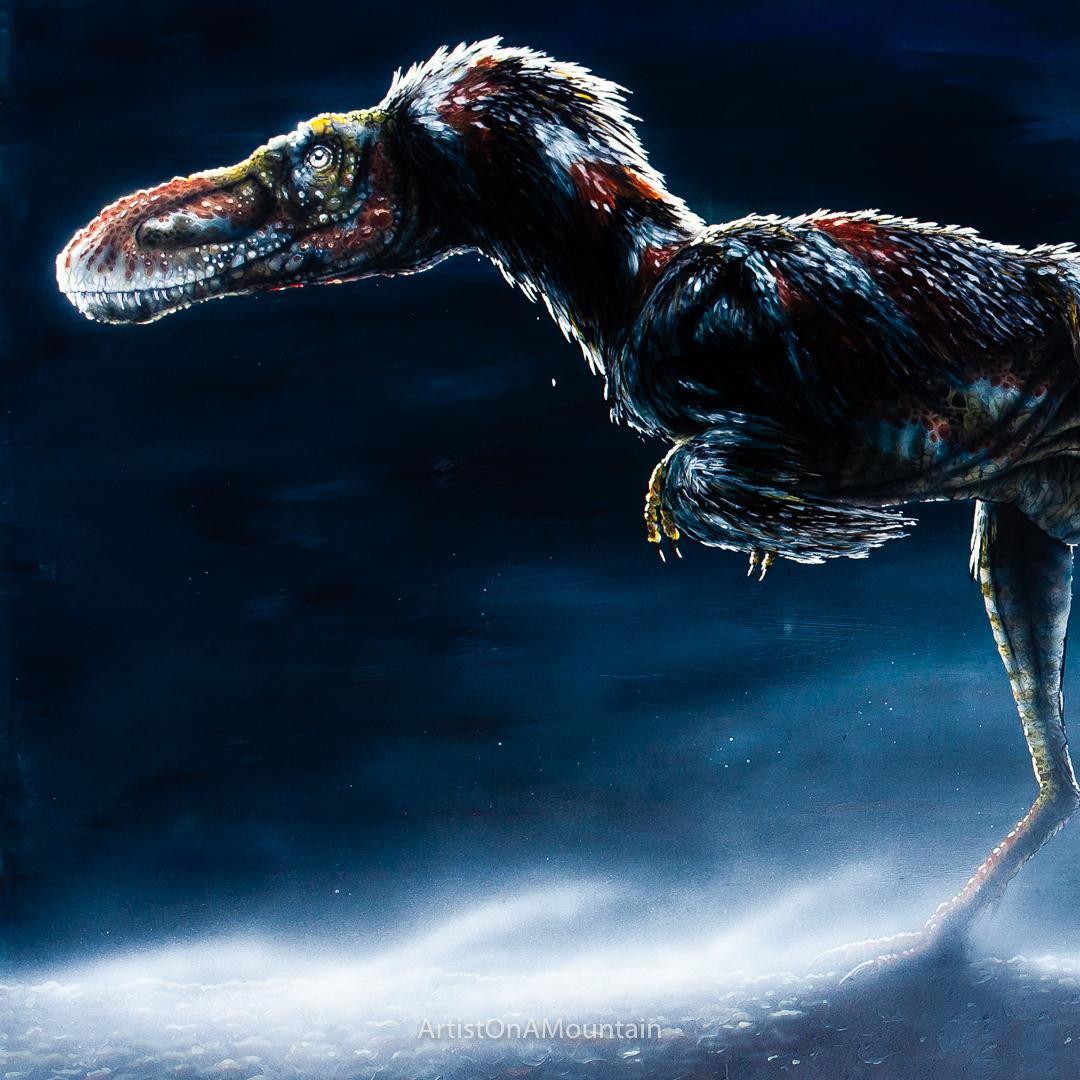 Below is a timelapse video of my progress on the painting from pencil, through watercolour, acrylic ink and acrylic paint, and airbrush paint. There are a couple of phases where I masked area with frisket to avoid watercolour paint or airbrush spray going in the wrong areas. Mostly, I did this to experiment with the frisket to see if it would peel off or otherwise affect the underneath paint. As you can see in the video, the painting mostly gets darker and darker, and eventually highlights are added back in, and then a final spray of mist in the foreground. 
Product 1: Original painting on gatorboard, 24″x60″
I feel that the original, physical painting actually looks the more realistic, and the print version appears more surrealistic. Here is the photo of the original version:

A detail from the original painting: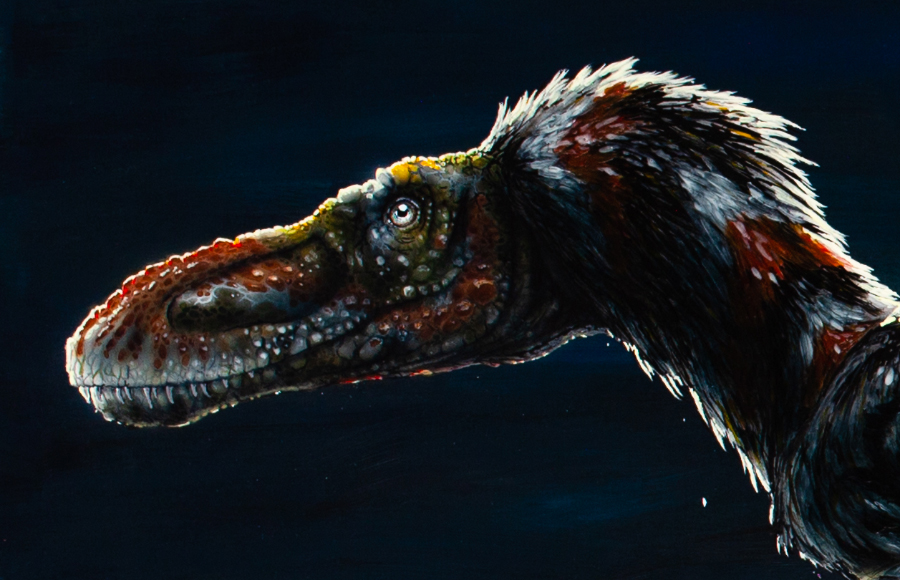 Product 2: Print
Here is the photo, after overall edits in Lightroom, I feel this version looks more surrealistic. This version is more bold and hits with impact. This would look great on a large wall. 

PLEASE CONTACT ME TO PURCHASE THE ORIGINAL OR PRINT OF THIS ARTWORK. 
Thanks,
David